Born : March 4 1933
Deceased : September 23 2021
Biography Nino Vaccarella
Nino Vaccarella was born in Palermo, the capital of Sicily and home of the legendary Targa Florio. Vaccarella was a brilliant student and went to university to study law. During Vaccarella's studies, in 1956, his father died. Vaccarella inherited the little Fiat of his father: a car that he started using in smaller race events. His first race activity was a Hillclimb at Passo di Rigano-Bellolampo, in which he finished fifth in class. However, In 1957 he bought a Lancia Aurelia 2500, considered the entry-level for young up-and-coming Italian racing drivers. he entered several Hillclimb events before making his racetrack debut at Vallelunga. He participated for the first time in the Targa Florio and finished well down the field in 109th place.
In 1959, Vaccarella purchased a Maserati in which he achieved a number of victories at hill climbs and race tracks These included the big hill climbs like Bolsano and Torino. Then Scuderia Centro Sud and Mr. Mimmo Dei, the boss, gave Vaccarealla a Cooper-Maserati, which was then the new car from England with the engine in the rear and with disc brakes. The car was very good in comparison with the front engine.
Nino entered the Maserati A6GCS in the 1959 Targa Florio and finished 10th. In 1960, Vaccarella and Umberto Maglioli shared the wheel of the Camoradi team's Birdcage Maserati in the Targa Florio. At one point they led for three laps, with an advantage of 3 minutes ahead of Porsche drivers Joakim Bonnier and Hans Herrmann. But a fuel tank breakage forced Vacceralla and Maglioli to abandon the race. Bonnier and Herrmann won the race in a Porsche 718 RS60.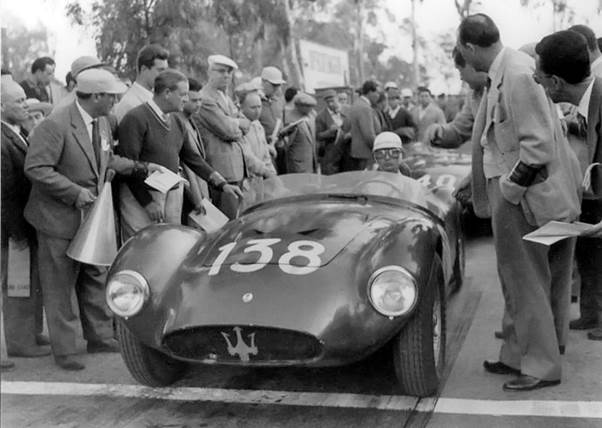 However, two weeks later he went to Vallelunga near Rome this time with a Fiat 8V, and finished a creditable third overall in the 6 hour Esso GT event. Nino did very little racing in 1958 but again he took part in his home race, the Targa Florio. This time he shared a Lancia with his friend Enrico Giacconi but retired.
In 1960, Vacceralla contested the Targa Florio in a works Maserati Birdcage. In 1961 he began running select Grands Prix for Scuderia Serenissima. In 1962, Vaccarella shared the wheel of a Porsche 718 GTR with Joakim Bonnier in the Targa Florio. They finished 3rd.
His consistent good finishes and growing fame brought him to the attention of Enzo Ferrari—and in 1963, Vaccarella left Serenissima and signed a contract at Maranello and became a Ferrari works driver. He scored major wins for Ferrari. In 1964, he won the Nürburgring 1,000 Kms. with Ludovico Scarfiotti in a 275 P . With the French Jean Guichet as a co-driver, he took overall victory at Le Mans in another Ferrari 275 P in 1965.
That same year he finally won his beloved Targa Florio with Lorenzo Bandini sharing a Ferrari 275 P2. Vaccarella also ran one Formula 1 race for Scuderia Ferrari, the 1965 Italian GP, but his day ended with an engine failure. After a 1966 season plagued with DNFs, he left Ferrari for Scuderia Brescia Corse. Later he joined the Alfa Romeo works team. Despite his new allegiance, in 1970 he raced a Ferrari 512 S a few more times for the factory, with a victory at the 1970 Sebring 12H as one of his exploits.
In 1971, Vaccarella took his second Targa Florio win, this time in an Alfa 33/3. A third victory came in 1975 in an Alfa 33TT12. Soon after that victory, Vaccarella hung up his helmet soon to continue his work as a school principal for many more years before retiring.
Pictures courtesy as credited and unknown